As an Amazon Associate we earn from qualifying purchases made on our website. If you make a purchase through links from this website, we may get a small share of the sale from Amazon and other similar affiliate programs. You can read our complete
affiliate disclosure
for more details.
Court stenographers are skilled professionals who create a verbatim record of court/trial proceedings. Using high-quality digital video, a court reporter videographer capture's a deponent's demeanor and voice recordings. The video recordings show facial expressions, nervous fidgets, anxious tones, or overall body language.
These gestures go a long way in determining whether someone is telling the truth or not. Both stenographers and a legal deposition videographer work together. They help to create a final audio and legal video deposition or transcript.
A legal videographer works within the court system, but they can also work in other legal agencies. For example, they can work as a videographer for local law enforcement agencies. Their primary responsibilities include recording crime scene investigations or evidence.
Many freelance videographer positions are filled through court reporting firms. Court videographers can receive a straight salary through clients or they can freelance. When they freelance they must develop partners with legal firms, courthouses, etc.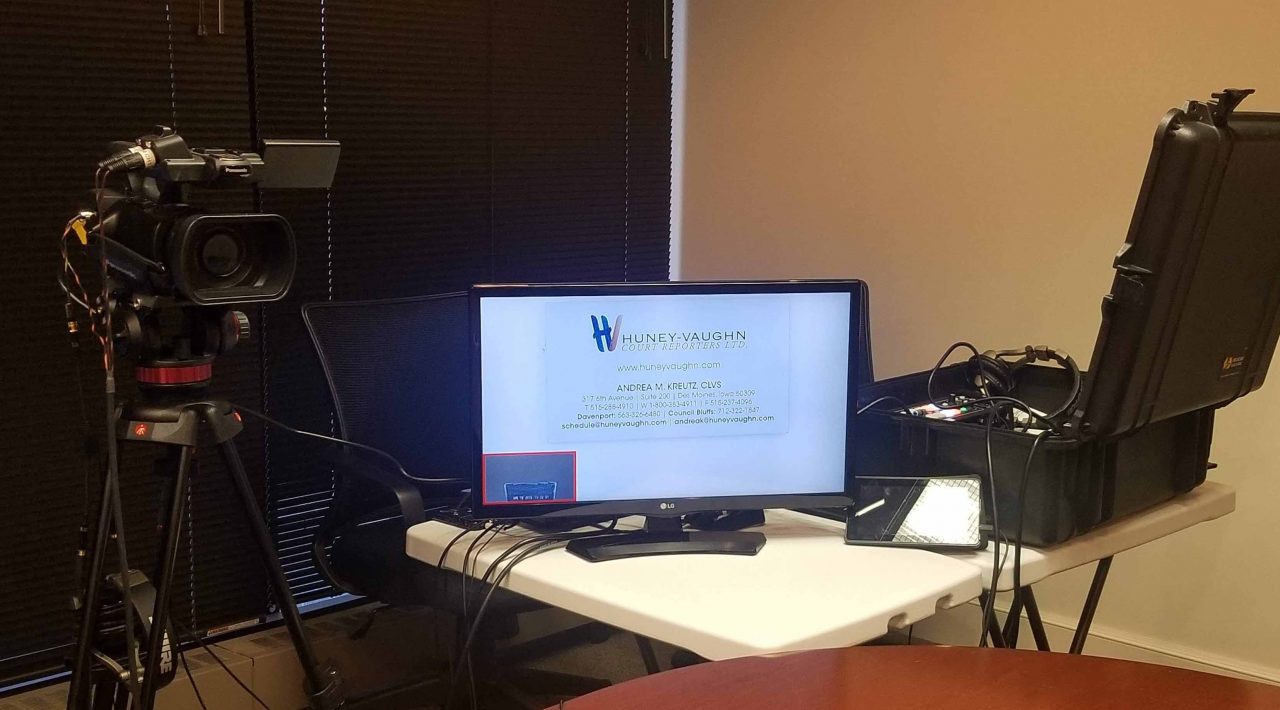 We recently had the pleasure of interviewing Andrea Kreutz, a professional Court Videographer (www.huneyvaughn.com). She owns a firm where she serves as a Certified Legal Video Specialist (CLVS). Ms. Kreutz has been working successfully in this legal profession for 5 years. Let's delve more into Andrea's profession to find out all that is entailed in her line of work.
What professional certifications do you hold?
As noted above, I have a CLVS – Certified Legal Video Specialist certification. Two great nationwide associations for legal videographers are the NCRA – National Association for Court Reporters and Captioners and the American Guild of Court Videographers.
Why did you choose to pursue this career?
I probably got the bug from my father who was a court reporter his whole career. He also co-owned a firm with his best friend, George Huney. They owned the firm for more than 40 years. When George retired, my father searched for someone to take over the firm. Therefore, in 2015 and in order to help the firm, I became a legal videographer, after a 15-year computer programming career. I chose this new career to assist our stenographic reporters.
What were your professional and educational pursuits for this career?
To start, I attended a National Court Reporters Association Convention. While there, I gathered as much information as I could from people experienced in this field. I then went through the CLVS certification process. The process at this time took 3 days, followed by an in-person training session.
Next, I studied and passed the required written and hands-on exams. I used this knowledge to build my first deposition kit. To pay for this training, I secured a loan especially to pay for my equipment. Then, with each job that I took, a portion of my salary went to pay back the loan.
What is the most rewarding and memorable experience that you've encountered with this career?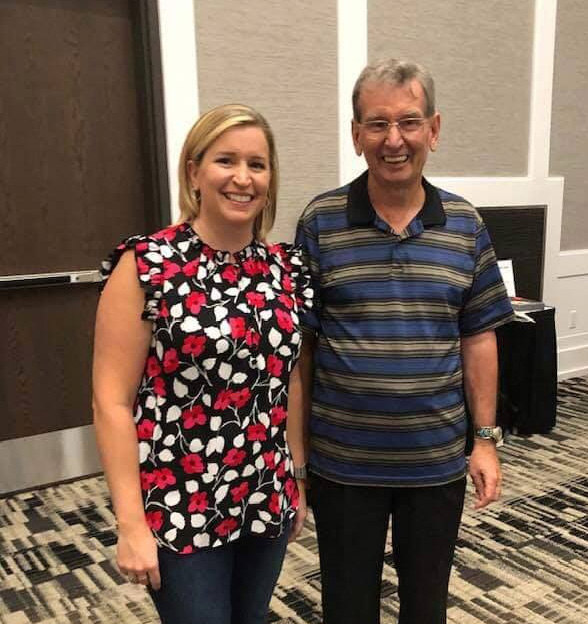 To begin with, I had the wonderful opportunity of working with my dad every day for over 4 years. My dad is presently retired, but I have fond memories of working side by side with him. For a video experience, my memories included a challenging case.
I was in a room recording the deposition of a mother with six children. She was with four of them. The youngest child was still breastfeeding. I was asked to "just zoom in on her face" while she was breastfeeding. While recording, the young child reached his tiny hands upward directly into the video shot of the mother's face.
The baby began moving his hands from cheek to cheek and eventually stuck his fingers in her mouth. The other children were also very active. The children managed to knock over my backdrop, water was spilled nearby on our equipment, and they nearly knocked over a reporter's laptop. The reporter's last name was Nelson. Even today we refer to this character-building experience as the "Baby Hands Nelson" deposition.
What specific video and audio equipment do you use?
We use two video kits so that we can run two assignments simultaneously. My primary pieces of equipment are 2 Panasonic cameras. These include the following:
Panasonic AG-AC90 AVCCAM Handheld Camcorder – In addition to court proceedings, this quality camera is considered a run-and-gun camera. Not only does it provide clear images, but it also takes crisp still photos. For live recordings, it features a manual mode setting. This technology prevents the camera from automatically changing the shot which can distract a viewer. You can also record as much as you need to SD cards that serve as backup recording cards.

Panasonic AG-UX90 4K Professional Camcorder – This is my backup camera. It features 44 different sound and recording functions. Live photo recordings are crisp and its microphone can pick up the slightest whisper. It has a load of features that help in my work.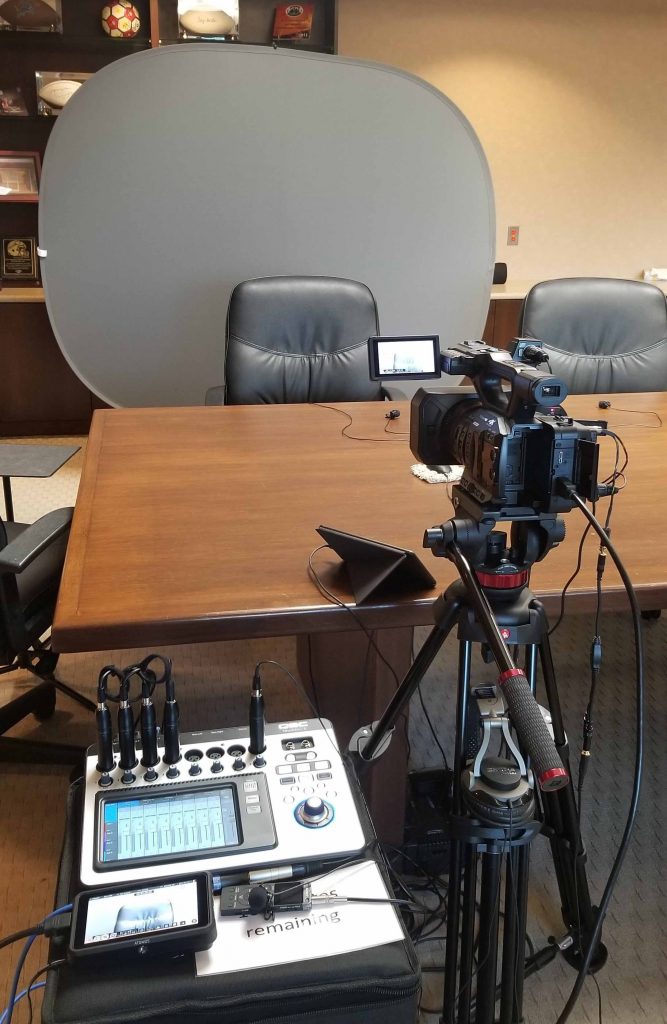 Additional equipment that I use is a QSC TouchMix-8 Compact Digital Mixer. The recording quality is amazing, powerful, and is very dependable.
What's important to note here is information about media management and backing-up data. Images from my equipment, like a camera, must be transferred to a computer. Where and how to import images is a vital process.
Many videographers want to import images and worry about organizing later. I don't work like that. Having images properly named and identified in the beginning is a less stressful method. This type of file management will save legal videographers hours of work later.
Also, having the right back-up gear is a necessity. In court videography, there is no rescheduling just because your equipment failed. It is important to have backup plans to protect your hard work. For this reason, I use an Atomos Ninja V 5″ 4K HDMI Recording Monitor as my backup recorder. Also, in real-time you must use an external recorder to backup media data.
For quality wired microphones I use lavaliers. This includes a Shure MX 391 and a Shure MX 183.
My Shure lavaliers have a foam windscreen that keeps distortions at a minimum. They both feature an accurate reproductive sound system. They have a wide frequency range. Both these mics can be used simultaneously with a dual tie clip.
When needed, I also use a PZM Boundary Mic (Shure MX 391). As a pressure zone mic, it can capture all the sounds or voices within its range.
For picture-in-picture, I use a Roland V-1HD HD Video Switcher. Using my Lumens PS752 Desktop Document Camera, I can switch between audio and video quickly. It also provides an option for mixing quickly and easily.
For my second image optimization, there is a Lumens DC125 Ladibug 30fps HD Lightweight Document Camera. This is our advanced professional image sensor when we need to identify bright images and low noise contract. It also provides a vivid color reproduction.
What misconceptions do people have about your career?
As you can see from my equipment, it isn't about just pressing a record button. As a legal videographer, there's multiple legal videographer equipment to monitor. There are video logs and post-production encoding and/or syncing with the transcript. You don't just press buttons to record and then read a magazine or surf your phone.
You must constantly monitor microphones and other high-tech equipment. In this career, you get one chance to record and there can't be any retakes. On TV it looks exciting and yes, it can be. However, most days involve listening to hours of uneventful testimony.
What type of salary can individuals make in this career?
Typically, a legal videographer can make a very nice salary after expenses. During the first few years, there is a heavy investment in equipment and advertising costs. Then as your reputation and skills spread and relationships are formed with reporting firms, you can live quite modestly.
What are your average work hours?
Well, it all depends. Hours can be based on the time of year and litigation trends. A typical week can be from 8:00 a.m. to 5:00 p.m. Other weeks your hours can be from 7 o'clock in the morning to 7 o'clock in the evening.
Yes, your schedule will be flexible based on attorney travel needs and trial dates. However, the more available you are, the more lucrative it is. This career is rewarding yet challenging. It can be difficult to balance work and life.
Beyond what people see, what are your other responsibilities? What tasks do you spend the majority of your time performing?
Shooting video is a small part of what a legal videographer does each day. Before your day starts, there's scheduling, confirming, paperwork, and traveling to the job. After the job, there's encoding to match the format that the attorney prefers for their software.
If they've ordered it synced with the transcript (similar to closed captioning), legal videographers must run it through the proper software. Then there's a quality control check during the sync process. Finally, there's uploading, emailing, invoicing, and collections.
What tips do you have for someone to succeed in this field?
I think the ideal candidate should have some background knowledge in video or photography. Familiarity with the basic feature functions like zoom, focus, and iris position control is important. The ability to multi-task or monitor multiple recording devices is very important. Networking and supporting the fantastic stenographic reporters across the country is absolutely critical. We are a team with reporters and other legal professionals.
Is there anything more you would like to share?
Court Reporting and Captioning Week is February 8 – 15 this year. Be sure to thank a court reporter or captioner!
As Andrea Kreutz has shared with us, a videographer plays a vital role in the legal system. They record depositions and other legal proceedings, along with a reporter and stenographer. Another skill held by court reporter videographers is fully understanding their equipment. If technical equipment fails, videographers are trained to resolve these problems so that there are no delays. Videography has been used in the legal field for many years. It's still a legal career that is being used today. With the advancement of technology, the quality and usefulness of videography continue to grow exponentially.