As an Amazon Associate we earn from qualifying purchases made on our website. If you make a purchase through links from this website, we may get a small share of the sale from Amazon and other similar affiliate programs. You can read our complete
affiliate disclosure
for more details.
Why would you want to listen to a police scanner? There are several reasons. For one, listening to live police and firefighter broadcasts is a lively experience. Another reason is that live broadcasts keep you informed of nearby police activities and fire-fighting events.
Are Police Scanners Legal?
Aren't police scanners illegal? No, police scanners are legal to own and to operate. The legal use of scanners was first initiated through the Communications Act of 1934. Additional authority was given by the enactment of the Freedom of Information Act. Both Acts regulate the freedom of wire and radio communications. Police activity is considered part of public information, therefore it is not illegal to scan some of their transmissions.
Advantages of a Police Scanner
A news source is when you are monitoring the assignment desk at your local news station. The station's scanner allows you to hear police, firefighter, and other types of emergency calls. Scanners provide information enabling you to be on the scene where and when action is taking place. Taking action photos and videos are part of the mainstay of covering news stories.
Four Types of Scanners
There are four types of scanners:
Handheld: Benefits include its mobility and it runs on batteries. Operating on batteries makes it immune to power outages.
Desktop: Benefits include its ability to operate on a stronger frequency. The operating range is wider and the volume is stronger.
Vehicle: Benefits include a combination of both the handheld and desktop. Additionally, this model can be mounted inside vehicles.
Broadcast app/website: Police and firefighter scanner apps are available for easy download with a website link. Turn on your choice of a broadcast feed and start listening. You can listen to emergency broadcasts near where you live, as well as throughout the region.
Being aware of where an emergency happens is a great first step for helping the community. A police scanner through the listening skills of a Stringer can make this possible. Let's look at each scanner type, their application, and description.
Handheld Scanner
The Uniden SDS100 is the first handheld scanner to use software that was only used in hardware devices. The reason why this is important, is because in a scanner, software is used to strengthen weak signals. You would benefit from this technology because there is no concern about missing regional emergency alerts. You can scan over 100 channels within a range of 30 miles.
The SDS100 is pre-loaded with extended memory. It also houses the largest Li-Ion battery developed for scanners. The Uniden digital scanner helps to monitor hours of scans that can yield lucrative assignments. Additional options include its weather-resistant casing. Additionally, It features a valuable GPS system for a portable and informative scanning venture.
Desktop Scanner
The Whistler TRX-2 Desktop Digital Scanner provides a long-lasting memory micro-SD card. This scanner is preloaded with channel data from the U.S. and Canada. Desktop no longer means that this scanner can't become mobile. No, it is not a handheld scanner.
But, it can be moved to different desktop locations as long as you program its frequencies. When you connect the Whistler scanner on top of a surface, it has its own stand-lift for stability.
Beneficial features include a programmable scan list. This allows you to turn immediately to a pre-programmed channel, providing you with consistent information. The TRX-2 is a multi-system digital trunking scanner. Trunking means that you can communicate with a group of users on specific radio frequencies.
Additional features are its weather alert channel and its LCD display that lights up in dark environments. The Whistler Desktop Digital Scanner has several innovative capabilities that will serve you well in your home or office.
Vehicle Mobile Scanners
The Uniden BC355N 300 Channel Police Radio Scanner works well at home and in your vehicle. It works on AC and DC power. Freelance reporters can enter a zip code and you are immediately taken to the scanned channel for that region. Mounted in your vehicle and with its GPS controls, you will be directed straight to the action. With 300 channels you are connected with police, fire, and emergency services.
The Uniden BC355N features a "close call" system. This technology enables you to pick-up neighboring transmissions on any frequency. The scanner will then automatically tune into your specific frequency. This means that you can monitor local emergency traffic without knowing the frequencies used in that area.
If you are in your vehicle late in the evening or at night, the Uniden BC355N features a backlit LCD display. This Uniden scanner is very easy to learn and operate. To stay safe, operate a mobile police scanner like a cellphone. This means to watch the road so that you can reach your assignments safely.
Broadcast app/website
Broadcastify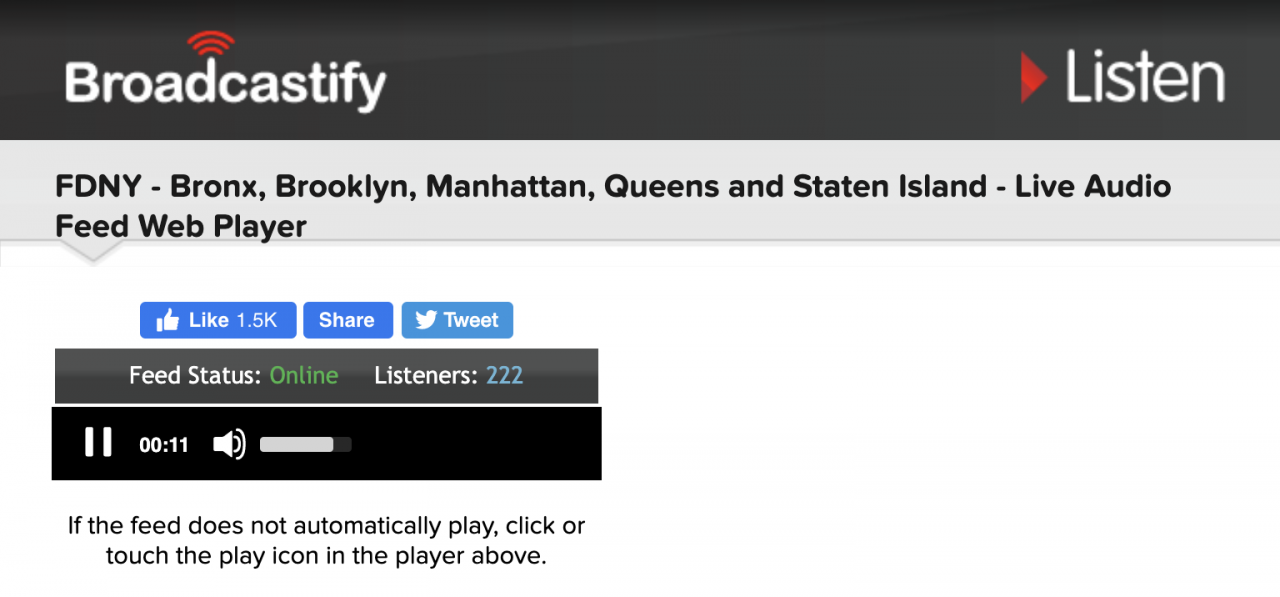 A police scanner app allows you to listen to live broadcast feeds from the fire and law enforcement departments. When you need to follow breaking news, download an app that will connect you to its live feed. There are free broadcast apps on websites like Broadcastify. Simply choose from different channel sections that help you to stay on top of emergency events.
Free broadcast apps and live website feed sites give you options to use on Android and iOS devices. To listen to website broadcasts, go to the website. Then choose a region and start listening. Your channel categories give you listening feeds from the police, fire, and EMS departments and others.
When you click on a transmission channel a new window will open and a radio link will start playing. To choose which emergency feed transmission you need, your options include top, new, alert, and official.
Police Scanner Endnote
One factor that gives Stringers a leg-up on breaking stories is their use of police scanners. Many breaking stories are quickly identified through monitoring police scanner frequencies. When breaking news is picked up on scanner feeds, you can capture the live action as it occurs. Because of innovative technology and social media, information is dispensed faster than ever before.
For this reason, police scanners have become a valuable tool for identifying fast newsworthy stories. In addition to crime news, you can use the scanners to learn about other emergencies like weather. You can arrive on the scene to take photos of people affected by bad weather. Your photos can show how the lack of utilities has negatively impacted the community. With the help of a police scanner, you become a benefit to people everywhere.
Thank you for reading! You can get back to all of our product recommendations by going here.