As an Amazon Associate we earn from qualifying purchases made on our website. If you make a purchase through links from this website, we may get a small share of the sale from Amazon and other similar affiliate programs. You can read our complete
affiliate disclosure
for more details.
A Stringer photojournalist is also a "freelance" photographer whose hard works gives news stations and news organizations video-graphic and photographic images of current and breaking news. To make a living, Stringers must secure as many news events as possible or they work with various news agencies. They are anonymous to the public but their photographic images are probably very well known.
Their environment is global. A Stringer is a multimedia journalist who can be located in war zones, city streets, rural settings, on the waterways of the world, on sports fields, on Hollywood red carpet events, and so much more. Vital to their work in the field is their ENG cameras.
This advanced equipment is jostled about as freelance photographers are taking fast-moving images. For this purpose, they need cameras like those below that are shoulder-mounted to capture the best photographs.
ENG cameras are top of the line photographic tools that are used on top of a Stringer's shoulder for hours at a time. Therefore, they must be light in weight but have features that must work in inclement weather, capture images instantly and clearly with great zoom lens technology as well as additional professional features.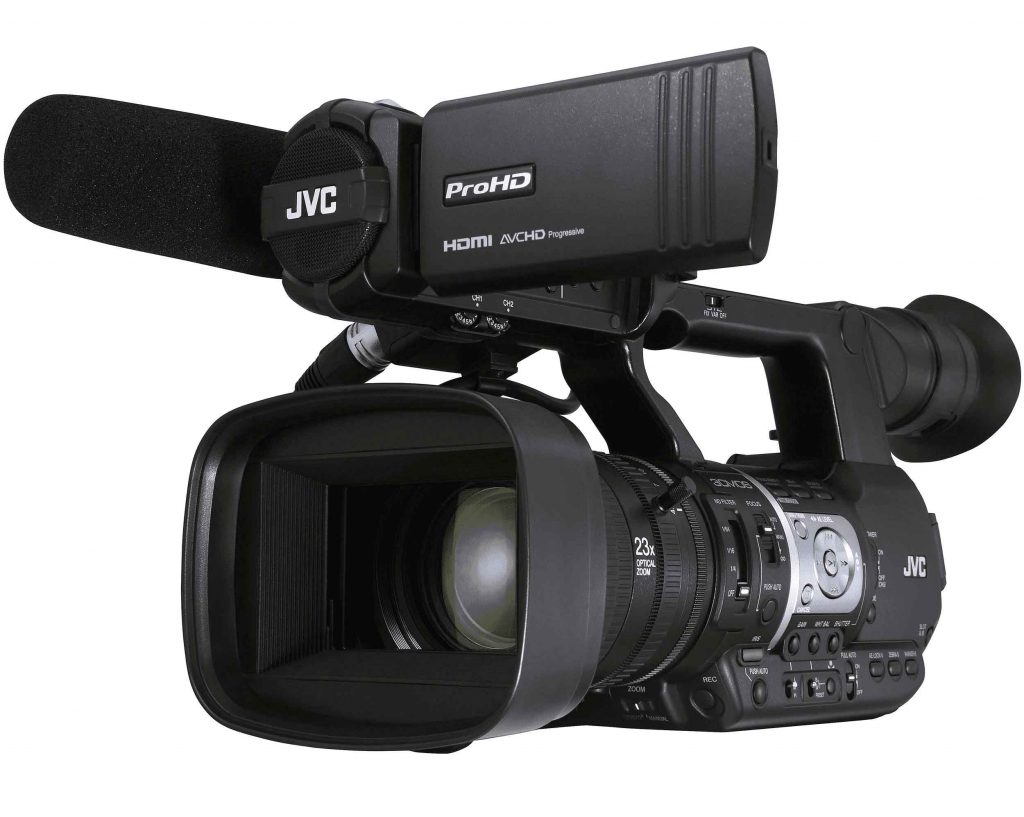 The JVC GY-HM620 is a handheld Pro HD Camera to be used in the field for capturing active news stories. This high-def camera gives Stringers a great illuminated LCD display for daytime lighting. This GY-HM 620 model has been updated to give freelancers higher resolutions for great images and richer color performance.
As part of this professional camera's high-tech features is the innovative JVC processor engine called the "Falconbrid" technology. The Falconbrid engine succinctly partners with its 2D processing system that gives field photographers a wide range image (920K pixels) even when you are several feet away.
The HM620 also features a focus finder function and an auto-zoom lens range that give photographers well-balanced and precisely focused camera photos. Multiple media card slots give photographers benefits like dual recording, backup recordings, and serial recordings. The JVC GY-HM620 is lighter to hold than it looks.
When photo-shooting and getting the news at the moment that it occurs is vital to stringers. The HM620 camera also gives professional freelancers a built-in microphone that gives your news stories more appeal while you are mobile and capturing your subject-matters while on the go.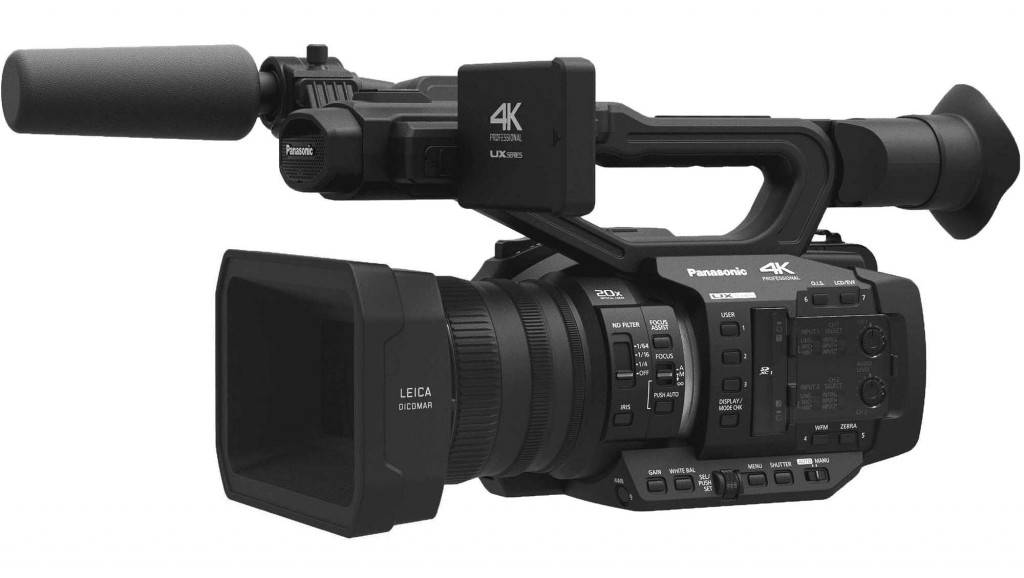 When freelance photographers are chasing their backpack journalism stories, they will experience carrying a reliable camera that is very well-balanced and that will give you a solid photo performance while you are jostling your shots. The Panasonic AG-UX180 has a stabilization level gauge that works perfectly.
This professional network style camera feels good in your hands and its 35mm zoom range will bring your main focus shot directly into your shot. The built-in wide lens and the "optical image stabilizer" (OIS) single-lens are great for indoor and outdoor wide angle shots.
This great in the field 4K footage camera has a dual card recording. Its exposure tools (Waveform and Vectorscopes) on the LCD monitor responds with the push of a button right at your fingertips. This amazing ENG Panasonic AG-UX180 also features a customized i.Zoom function that extends your lens range to 30x without any resolution distortions. Stringers will love its manual focus speed and speed-assist settings.
The AG-UX180 features multi-format recording, an HD super slow-motion, and two SD memory card slots for backup and simultaneous recordings. When your storyline is within your 4-Drive lens view and its Micro Drive Focus Unit will provide high-speed auto functions.
Photographers on the go daily are equipped with high-quality interfaces: wired remote control button, 3G-SDI output, Panasonic's TC synchro input/output feature, and an XLR input.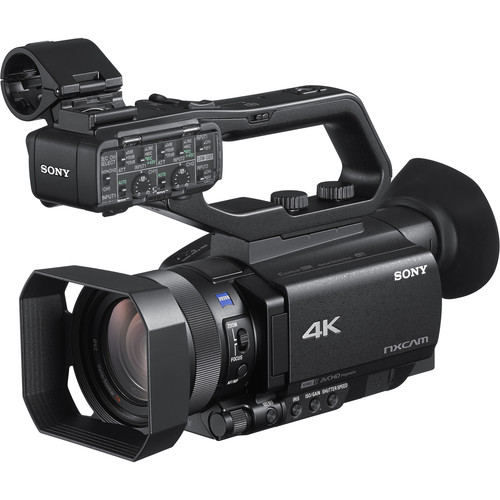 As a freelance videographer and/or photographer you need a smart camera that gives you professional images so that you can earn your pay. The Sony HXR-NX100 gives you movie style footage without any distortions. When your storyline subject is in view use the 24 image zoom lens to place them perfectly in focus.
The NX100 features manual rings (3) designed around the lens so that as a stringer whose work is well-respected, you can adjust your focus, affix your microphone whether wireless or built-in to catch your shot and to hear the news you need. This comfortable hand-held camera can store up to six pictures that can be shared with other cameras/camcorders.
Because a Stringer's job is to line up as many stories to cover and sell as possible, this professional camera also features two memory card slots. Sony NX100 features its customized Varizoom remote that allows freelance photographer's the ability to easily control the start and stop recordings and the zoom focus. With this camera, all you need to do is to touch and adjust your recording settings with the push of a button and no fumbling to waste your shot.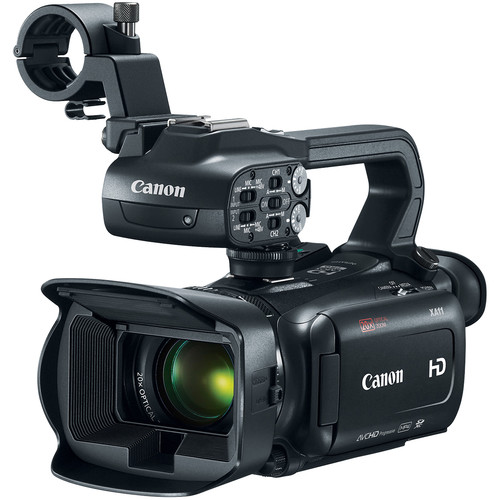 The Canon XA11 portable camera helps to make a Stringer's final video work ready to place on the air or the Internet. Photographer's receive a 20X optical zoom lens, high-def video recording, and an automatic stabilization feature which is needed when a freelance photographer is running to get their shot. The XA11 is a hard-working camcorder/camera that will help videographers and a multimedia journalist have their submitted work accepted immediately.
The Canon XA11 HDMI and Composite Output professional ENG camera can capture your mobile shots at frame rates up to 49.94p and a 24p mode for a moving cinematic perfection. Whether it is day or night, the XA11 by Canon gives Stringers and freelance photographers balanced and clear images. This innovative on-the-go camera stabilizes your recordings even when you are moving about swiftly.
A great benefit on this Canon model is that you have automatic dual slots so that when one card fills up your camera will switch to the other slot without you having to stop and miss certain actions. Additional features for the XA11 include a mini HDMI connector and a 3.5mm minijack and USB output ready for headphones.
When a freelance photographer in the world of backpack journalism is running to capture newsworthy images and recordings, they will find that all they need to do is to reach on top of the camera to detach the handle that also contains a zoom toggle and more. The Canon XA11 also features an automatic facial detection technology.
Camcorder/Camera Endnote
The professional cameras identified above are key to the world of backpack journalism. They are designed to serve as a "run-and-gun" photographic shooting tool in the hands of a multimedia journalist. ENG cameras for freelance photographers or Stringers are innovative digital media tools. With a hefty combination of advanced features, broadcast fast-imaging camcorders give broadcasting a whole new look at the news happening around us.
Yes, with the technology of today's smartphone cameras, you can capture good 4K video images that can be edited. However, if you are serious about making a living in a backpack journalism world, then modern ENG cameras surpass a phone's zoom-in range, recording time, magnifying lens, automatic stability in photos and so much more.
Thank you for reading! You can get back to all of our product recommendations by going here.